25.2.05
Belfast Telegraph
IRA-linked gangster is released in the us
American led cops to body of gunrunner McIntyre
By Sean O'Driscoll
25 February 2005
A notorious gangster who led Boston police to the body of IRA gunrunner, John McIntyre, has been released after five years in prison.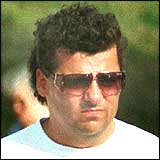 Kevin Weeks
Kevin Weeks, once the most trusted lieutenant of Irish American crime boss, James Whitey Bulger, was let out last week.
However, Weeks, who showed police where McIntyre and two unrelated murder victims were dumped in a pit, has refused to go into the FBI's Witness Protection Programme.
'Whitey' Bulger
McIntyre disappeared in 1984 after the interception of the Marita Ann gunrunning ship by the Irish navy. The ship, skippered by the current Sinn Fein TD for Kerry, Martin Ferris, had taken the guns from the Boston fishing vessel, the Valhalla, of which McIntyre was a crew member.
Irish American crime writer, TJ English, said Weeks' decision to remain out in the open shows Bulger's hold on Boston's Irish community has collapsed.
This month marks the tenth anniversary of Bulger going on the run after he was tipped off that he was about to be arrested.
The mystery around Bulger has lead to a huge interest from publishers and film studios.
The Showtime network is currently working on Brotherhood, a series based on Bulger's relationship with his brother Billy, the former president of the Massachusetts senate and University of Massachusetts.
Martin Scorsese is also scouring south Boston for a tale of Irish American gangsters and FBI agents that will feature Leonardo Di Caprio and Matt Damon.
While once fear would have kept Bulger underlings from telling their story, the disintegration of his criminal base had brought a rash of new book ideas, most noticeably Edward McKenzie Jr, author of Street Soldier: My Years as an Enforcer for Whitey Bulger and the Boston Irish Mob.
The 48-year-old Weeks drove police to the makeshift burial site of McIntyre, who may have been falsely accused of telling police about an IRA arms shipment to protect Bulger.